Do I Have to Sign a Release of Liability After a Car Crash?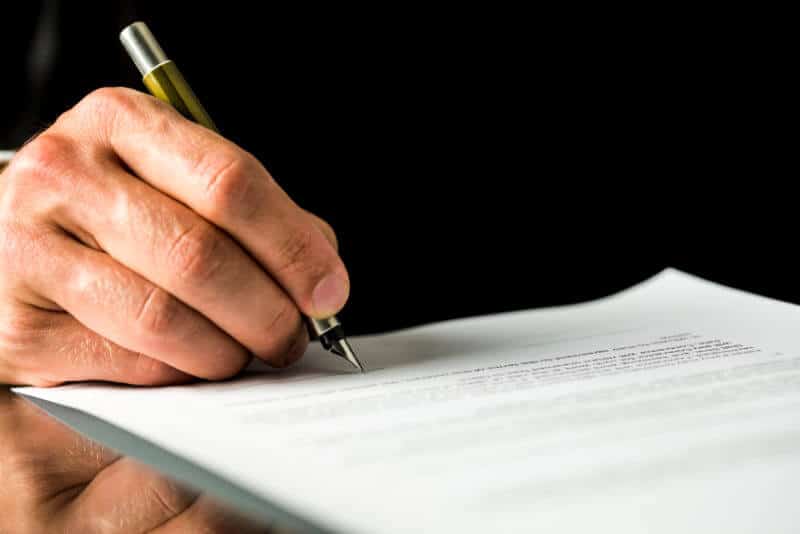 If you've ever been involved in an automobile accident that was caused by another driver, you know how much of a headache it can be. And, that's if you weren't injured. Still, chances are the other guy's auto insurance company made you an offer to fix your car and also sent you a release of liability they want you to hurry up and sign.

Problem with signing a release of liability
The problem with signing a release of liability sooner than later is it may be too early to determine the extent of the damage to your vehicle or to your own physical well-being.
Visual estimates are made daily to repair crushed fenders, bumpers, and broken taillights, but there could be internal damage to your vehicle that may only pop up after you've picked it up from the body shop.
Assuming you're perfectly fine after a car wreck is often a misdiagnosis made by someone who is totally unqualified at the time to make that conclusion – you. Shortly after another driver T-bones your new pick up, you're operating on an increased flow of adrenaline and nervous anxiety.
If the impact was hard enough and you don't get checked out by a doctor, you could actually have suffered minor injuries, from straining your wrist to soreness of your neck or back, as well as late-appearing internal injuries and not know it for days.
First of all, there's no rush for you to sign a release of liability, no matter what the other guy's insurance adjuster or yours is telling you. Car insurance companies know it's in their best interest to get your signature on the dotted line quickly. The reason:
Your known losses are clear and may only be limited to the cost to fix your vehicle and the full extent of the accident may not have presented itself.
The dollar amount required to repair your vehicle is the absolute minimum the insurer will have to pay without dealing with potential future accident-related injuries or car repairs.
More often than not, your own insurer will have an in-house attorney represent you against the at-fault driver's auto insurance company. But, that doesn't always mean your best interests will be well-represented. And, sometimes you may have to consult outside legal counsel in the form of an experienced personal injury attorney to be fully protected should you have to go to court.
Don't allow yourself to be intimidated
Whatever you do – don't allow yourself to be intimidated into signing the release of liability. Although you may be getting pressure from the other guy's insurer to sign the form, it's to your benefit to hold off until you feel comfortable releasing both the at-fault driver and his insurer. Your claim will not be affected; your vehicle can be repaired and you can wait to see if any potential concerns pop up. It's not up to them – it's up to you.
The following are some of the potential future financial, physical, and emotional damage you could suffer as a result of the accident and the costs you could lose out on or incur by signing a release too soon:
Initial medical bills should an injury appear later.
Ongoing medical bills to treat an injury to your neck or back that has turned out to be serious or chronic.
Increased medical insurance costs to pay for treatment of injury.
Vehicle damage estimates or repairs that were not detected previously.
Lost wages should you be forced to miss work as a result of the injury.
Pain and suffering related to the accident.
Legal costs should you be forced to hire outside legal counsel.
Bottom line: You don't want to sign a release of liability – regardless of the pressure – too quickly. You're essentially giving up your right to any future compensation other than what is quoted in the agreement as being final payment for damage to your vehicle, without considering the possibility of hidden injury or further damage to that vehicle.
Never drive without car insurance. Make sure that your vehicle is protected. Call USAgenices today at (800) 420-3712 to get a free car insurance quote. Our agents will work with you to get you the best car insurance coverage for your budget. You can also use the website to get your free auto insurance quote online.