Flood-Damaged Vehicles – How to Avoid Buying One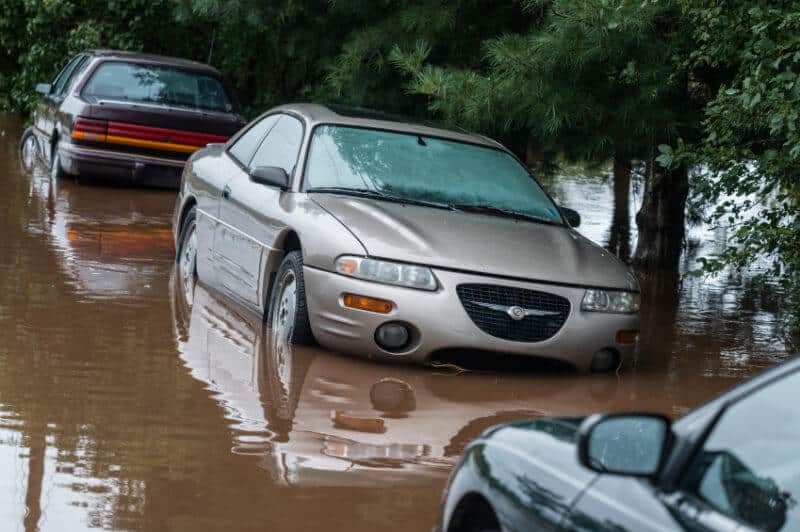 With heavy rains typically comes flooding and a frequent by-product of record-breaking rainfall can be scores of flood-damaged vehicles. Unfortunately, it's not uncommon following natural disasters for dishonest individuals to take advantage of unsuspecting buyers by selling them a vehicle that was submerged and has suffered substantial, though not visible, water damage.
Once owners of damaged vehicles have settled with their auto insurance companies, the vehicles can be sold for salvage, where they are sometimes refurbished and resold to an unsuspecting party in a different state. Middlemen buyers frequently use a practice known as "title-washing" to intentionally hide the flood-damaged vehicle's history, leaving the next owner with a myriad of potential problems – including electrical, mechanical and safety issues – and, no recourse against the seller.
The old adage of "buyer beware" is especially true after floodwaters recede in the affected state as well as adjoining states and used car deals suddenly appear to be too good to be true.
According to an estimate by Carfax's Communications Director, Larry Gamache, more than half of those vehicles with salvage titles are resold, which means you stand a pretty good chance of kicking the tires of a previously damaged vehicle. Furthermore, Christopher Basso, spokesman for the vehicle-history checking company added that the sale of flood-damaged vehicles occurs mostly between private parties because reputable dealers wisely use a vehicle's history report to stay away from suspect vehicles.
But, if you're a risk-taker and you're faced with a deal you absolutely can't refuse on a used vehicle, following a major flooding event in South Carolina or adjoining state, you may consider some helpful tips to keep you from making a costly mistake.
1. Don't believe the hype
Just because the seller tells you the car is a diamond in the rough doesn't make it so. Consider the source. The more anxious he is to make the deal, the more you should beware.
2. Trust your nose
In other words, if something doesn't smell right – musty or moldy odors – it could be a sign the vehicle may have been exposed to water for a prolonged period of time. Be leery of heavy-scented air fresheners or cleaning solutions. Run the A/C for a few minutes to see if the vents are the source of the moldy odor.
3. Check the exterior of the vehicle for water buildup
Common traits of flood-damaged vehicles include fogging inside the headlamps, taillights and the accumulation of water in odd places. Look for a noticeable water line in the engine compartment, trunk or door jambs that indicates the vehicle may have sat in deep water.
4. Take a peek at the undercarriage
For this, you may want to take it to a mechanic with a hydraulic rack. Look for an unusual amount of rust or flaking metal around the underside, frame, and suspension components, which is not normally common in late-model vehicles.
5. Be especially suspicious of dirt buildup and discoloration
Check the interior carpeting, including the area under the glove compartment, seat tracks for rust, the glove compartment for discoloration, as well as the upholstery, door panels, and headlining. Pay additional attention to all electrical switches, such as the headlamps, brake lights, power windows, wipers, and anything else that runs off the vehicle's electrical system.
In the end, whether you use Carfax, Auto Check, or the National Motor Vehicle Title Information System, operated by the Department of Justice, doing your homework on a car or truck you have suspicions about could save you thousands of dollars.
A history report can show the presence of a flood title, thereby, alerting future buyers that the vehicle has damage that is the result of being submerged in water deep enough to flood the engine compartment.
To find the best auto insurance rates available, you have to compare. Call USAgencies today. We compare rates from the top providers to get you the best quote. Call (800) 420-3712 to speak to a live agent and get insured today. You can also get a free auto insurance quote online.